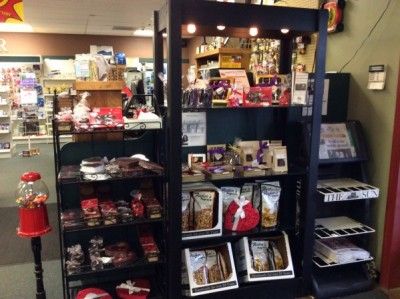 Snacks and Gum
Is it time to feed your sweet tooth? Or perhaps you're looking for a sweet gift for your sweetheart. Look no further than Paper Mill's Gift Shop.
We have a variety of quality candy items to choose from, including:
Abdallah Chocolates (since 1909)
Fishers Popcorn
A complete array of "nickel" candy and candy bars such as: Baby Ruth, Chunky, Crunch, Dove bars, Hershey bars, Junior Mints, Kit Kat, Life Savers, Mallo Cups, M&M's, Milky Way, Mr. Goodbar, Oh Henry, PayDay, Reese's peanut butter cups, Snickers, Skybar, Twix, York Peppermint Patties, Zagnut, etc.
Gum: Dentyne, Ice Breakers, Mentos, Orbit, Trident
Utz Varieties: Cheese Curls, Chips, Pretzels, Popcorn, etc.
A variety of prepackaged candy gifts and candy gift baskets are available.Call 410-667-4600 or stop by today to check out our selection.